Hermes and Aeolus
by Slamouraï and La Bellezza
Sunday July 3rd, 5 pm – Salle Gabriel Julliard
Monday July 24th, 3 pm – Le Savoie, Saint-Michel-de-Maurienne
Guided by Hermes and blown forth by Aeolus, this concert will take you on a musical and poetic journey through the great themes of dreams, madness, nature, love and war.
Hermes, guardian of orators and messenger of gods, and Aeolus, guardian of stormy winds and light breezes, pair together to allow safe crossing.
Five tableaux will give you the opportunity to hear works from the European baroque repertoire: airs de cour and dance suites from France and England (Byrd, Matteis) then from Naples, Venice and Rome (Falconieri, Vivaldi, Corelli).
To the sound of the flutes and the viola da gamba, Slamouraï's flow will carry you into the poetry of words and notes, spinning anew the thread between the people of yesterday and today.
As a prelude to the show on the 24th, the children from the Valloire and Saint-Michel de Maurienne leisure centers will present excerpts from their morning workshop.
La Bellezza
Founded under the direction of Solène Riot, the vocal and instrumental ensemble La Bellezza takes its name from Claudio Monteverdi's Balletto De la bellezza, an excerpt from the Scherzi musicali published in 1607.
The ensemble devises programmes of Early music, often with a multidisciplinary approach that combines music with dance, acting or puppetry. In this respect, it is regularly invited by the Festival Jean de La Fontaine at Château-Thierry. Among its creations, L'ile de Délos with baroque dancers Olivier Collin and Annabelle Blanc (2013), Le ballet des rencontres inopinées (2014) and Vassilissa La Belle (2015) with puppeteer Denis Lacaze, Ronsard & Company (2015) with actress Stéphanie Tesson, Brillantes fleurs naissez (2017) with actor Christian Joubert, L'Astrée with Jean-Denis Monory (2019), Aliénor d'Aquitaine (2022).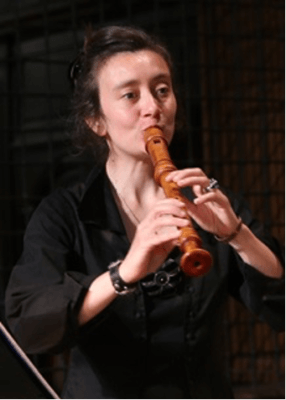 Solène Riot
Solène Riot, artistic direction, recorder and baroque transverse flute
Solène Riot trained both as a flautist and cornetto player. Her interest in traditional music led her to specialize in the playing of period instruments: bagpipes from the centre of France, pipes and tabors, and Renaissance transverse flutes.
During her career, she has had the opportunity to play in concert with Hespèrion XXI, Les musiciens du Louvre, Le Poème Harmonique, Le Concert d'Astrée. She regularly performs with the companies La Tempête and Bassa Toscana, the ensemble Pérotin Le Grand, and La Bellezza, of which she is artistic director. She now teaches at the CRR of the Cité des Arts at Chambéry.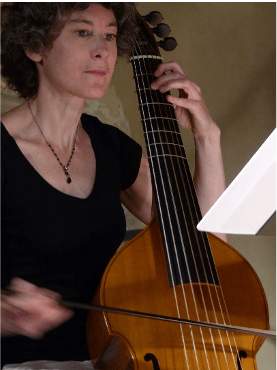 Cécile Renaud-Goud
Viola da gamba
Cécile Renaud-Goud started her musical training with the transverse flute, before turning to Early music and the viola da gamba. She is especially fond of performing crossover arts and styles. She thus plays with the neo-traditional music group Alchemy or with actress Sylvie Dyon in dramatised tales. Very involved in educational issues, she is currently working for the Office Central de la Coopération à l'École.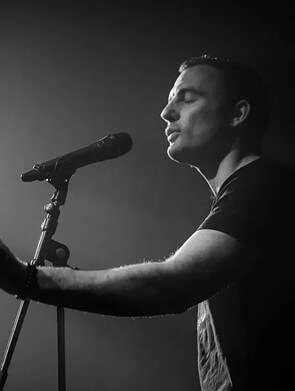 Slamouraï, slammer, is constantly seeking to achieve the alchemy between meaning and sound in words. He wrote his first poems at the age of 13, with rap as his poetic school. Later, he rediscovered the classic French songs that marked his childhood, first with Renaud and his rebellious spirit, but also with Brassens, Aznavour, Cabrel and above all Brel. So many great names that influence him and convince him that poetry is to be found everywhere and meant to be slammed!
Program
Music taken from the works of Nicolas Matteis, Paolo Benedetto Bellinzani, Andrea Falconieri and Louis de Caix d'Hervelois. Detailed program to come.
Slamouraï – Jérémy Sage, slam
Solène Riot, artistic direction, recorder and baroque transverse flute
Cécile Renaud-Goud, viola da gamba
The educational actions of the Festival Valloire baroque
Within the framework of its educational actions, the Festival has entered a partnership with the ensemble La Bellezza, around the show Hermes and Aeolus.
On the morning of Monday July 24th, some fifteen children from the Valloire and Maurienne Valley leisure centres, as well as residents of nursing homes and other interested audiences such as the pupils of the Saint-Michel de Maurienne music school, will take part in writing workshops with the artists of the show Hermes and Aeolus.
In the afternoon, the artists will perform the show at 3pm at the Espace Le Savoie at Saint-Michel-de-Maurienne, in "immersive mode", meaning the audiences involved in the workshops will be immersed in the show. Through the workshops and the show, the project helps develop the sensitivity of children and elderly people as regards music and music writing, while opening them the way to the possible bridges between apparently distant artistic and cultural imaginations.
The educational actions of the Festival Valloire baroque are supported and funded by la Caisse d'Épargne Rhône-Alpes.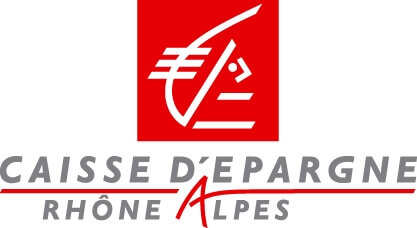 La Caisse d'Épargne Rhône-Alpes, banque régionale coopérative, s'engage pour favoriser l'accès à la culture pour tous. Mécène historique du Festival Valloire baroque, elle soutient spécifiquement un concert à destination des jeunes publics et des résidents de maisons de retraites mauriennaises.