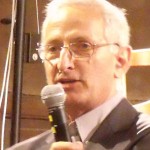 Dominique Longchamp
In 2009, Dominique Longchamp brought together the founding team of the Festival Valloire baroque, a project whose main lines he had devised.
The team, about twenty persons, either native of Valloire or "adopted", rapidly evolved into an organizing team, managed, year after year, since the first season of the festival in 2010, by the initiator of the project.
Today, strengthened by the cohesion and harmony of their team, the organizers are increasingly skilled in the tricks of their "trade". They are proud to receive messages of encouragement, such as that of a Savoyard politician :"I congratulate you for the quality of the work  you have achieved to promote this wonderful event that does honour to the cultural programme of the Maurienne valley."
2017 The Festival Valloire baroque
A word from Dominique Longchamp
President of Amis du Festival Valloire baroque
Year after year, the experience never fails to repeat itself: as the applause of the closing concert fades away, we think this was the most splendid festival of all. Festival visitors say so and congratulate us! No doubt Gaël de Kerret had invited the most talented ensembles to serve an ever more inspired programme.
Then the nagging question: how can we, again, "entice" our audience with an even more attractive festival?
A few facts and figures from the past seasons reassure us, propitious omens of the future, we hope.
Attendance has nearly doubled since the first festival, with just over 3.000 tickets sold in 2016.
Regional media have always generously covered the event, now relayed by prominent national media such as Le Monde, La Croix or France Musique. A mere pipedream so far…
Of course, nothing can ever be taken for granted, and there's ample room for progress. You, dear festivalgoers, are our most trustworthy critics, so I invite you to share with us any comment and suggestion you may wish to make. You are also our best ambassadors, and we rely on you to spread the word, if you think the festival deserves it…
One thing is for sure, though! We absolutely mean to preserve the easy-going, friendly atmosphere of our festival and wish to make the event a perennial opportunity for lovers of both music and nature to come together.
I also wish to tell you about the original initiative launched in the Paris area last winter by a group of festival friends, offering a series of lectures on baroque music ; hopefully to be duplicated in other towns?
Another novelty of note in the 2017 edition is the workshop on baroque dances, which, I hope, will arouse the curiosity of festival faithfuls. Things are indeed moving at the Festival Valloire baroque.
The whole team and I wish you an excellent 2017 festival, full of "antics and curiosities", and also unexpected "chef's specials". For whoever says baroque, means diversity, invention, free rein, quirkiness, often enough with a pinch of humour and self-mockery.