La Traverse
"La Traverse" is Valloire baroque's Off festival.
 
La Traverse is first an opportunity for young professional ensembles to perform "beside" well-known artists invited for the In festival.
La Traverse is also a possibility for well-trained amateur ensembles to play or sing within the framework of a festival hosting professional artists.
 
Whereas Valloire's In festival is exclusively dedicated to baroque music, La Traverse, true to its telltale name, cuts across other repertoires of ancient music, or even romantic or modern works.
La Traverse also means to open the way to more offbeat shows.
 
Prior to La Traverse, some sort of Off festival already existed at Valloire with the Master Class concert, which gathers opera singers looking to turn professional and experienced amateurs.
There was also the Valloire enchanté sing-along concert, launched in 2013; sung by the public, this concert duly belonged with La Traverse, even before Valloire's Off festival was officially named.
 
In 2014, Valloire's Off expanded and became known as La Traverse. Success was immediate, allowing the Festival to reach one of its primary goals, namely to attract all kinds of music lovers.
 
From 2014 to 2017, a number of La Traverse concerts were hosted by Benoît Rapin's former sawmill, converted into a concert and exhibition hall, courtesy of Martine Rapin (the owner), as part of a rewarding partnership with the "Valloire Art Contemporain" association.
 
Since 2018, La Traverse concerts have all been hosted in the Salle Gabriel Julliard above the fire station.

In 2023, la Traverse, in its "complete" form is suspended. Only the Valloire enchanté concert will be maintained.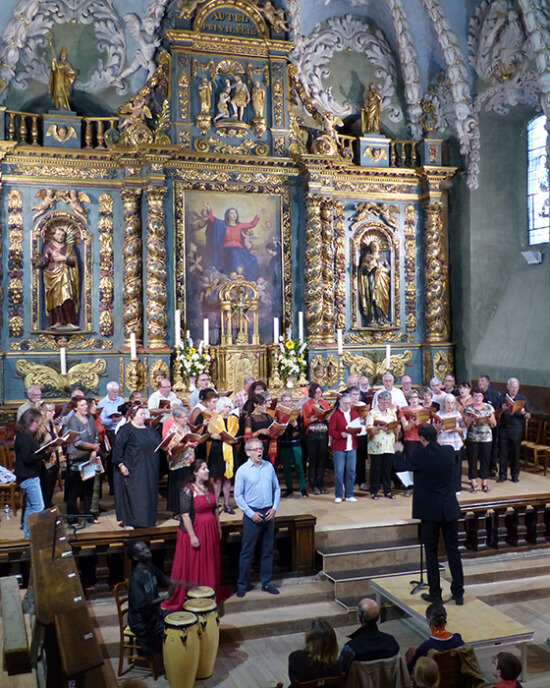 Thursday July 27th, 2023 – 5 pm
Church of Valloire
Valloire enchanté
Sing along
Female composers?, direction M-C Hoyrup
Requiem by Fauré, direction A. Vidovic