The intermidi for La Pellegrina
by Les Traversées Baroques,
direction Etienne Meyer
Friday, July 29th, 9 pm – Church of Valloire
Florence, 1589. Officially, the earth is at the centre of the world, and opera does not exist. Lyrical art only came into being ten years later, under the pen of Jacopo Peri. The Renaissance world was then in turmoil, on the brink of great upheavals. A highly anticipated event, the princely marriage of Christina of Lorraine to Ferdinando de' Medici helped accelerate a genuine artistic revolution. Succeeding an unpopular brother, the Grand Duke wanted to mark minds with a striking celebration: nine months of preparation, hundreds of artists and craftsmen at work, over a month's time of entertainment, this was the greatest run of cultural festivities in late 16th-century Europe. Seven of the greatest composers of the time were asked to write musical intermedi to punctuate a play entitled La Pellegrina: Cristofano Malvezzi, Antonio Archilei, Emilio de' Cavalieri, Luca Marenzio, Giulio Caccini, Giovanni de Bardi and Jacopo Peri. They were no other than those who, ten years later, gave birth to opera alongside Claudio Monteverdi.
Les Traversées Baroques
Based in Dijon, Les Traversées Baroques explore original baroque repertoires: a musical journey that starts in Italy, the cradle of early 17th-century music, and follows the many ramifications of its influence throughout Europe. Monteverdi of course, the spiritual father, but also B. Strozzi, K. Förster, M. Mielczewscki, G. Gabrieli and many others.
Regularly invited to prestigious venues (Sarrebourg International Festival, Ambronay Festival, Musique et Mémoire Festival, Haut-Jura Festival, Dijon Opera, Beaune Theatre, etc.), the ensemble also performs abroad (Poland, Czech Republic, Switzerland, Cuba, Norway).
The ensemble has recorded four albums devoted to the Polish musical repertoire. The fifth, devoted to Gabrieli and Bassano, was released in 2018. These recordings have all been acclaimed by national and international critics (FFFF Télérama, 5 Diapason, ResMusica, Choix de France Musique, nomination for the International Music Awards). Their latest recording highlights Bonaventura Aliotti's Il Trionfo della morte.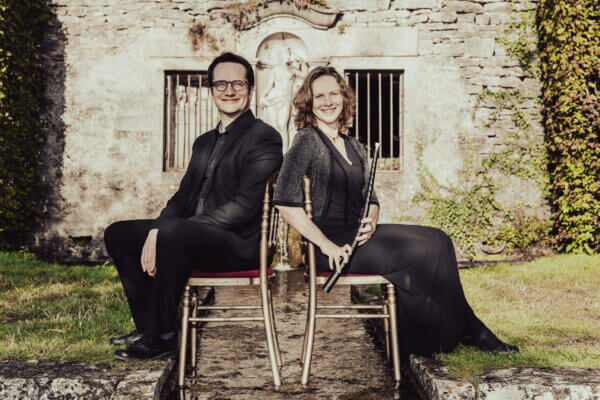 © Edouard Barra
Both conductor and composer, Etienne Meyer obtains a double degree in conducting and music writing at the Lyon CNSMD. He is the musical director of Traversées Baroques, which he founded in 2008 with Judith Pacquier. At the head of this vocal and instrumental ensemble he carries out a formidable research job, rediscovering little-known Baroque repertoires, particularly Polish music. In Italy, Claudio Monteverdi is honoured: Etienne Meyer conducts his Vespers to the Blessed Virgin, his Selva morale e spirituale and Orfeo. During the ensemble's residency at the Dijon Opera he conducted a reconstruction of the Intermedi for La Pellegrina..
Etienne Meyer leads numerous educational activities in Burgundy, in Lorraine, but also in the Czech Republic and Poland. Also a composer with a passion for the cinema, he writes music for film concerts, using the rich sounds of period instruments in a modern language.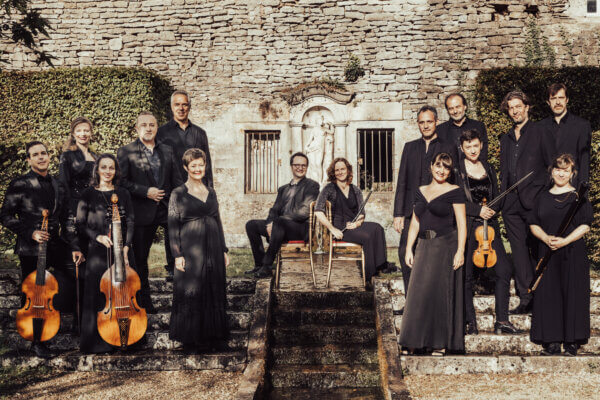 © Edouard Barra
Programme
Pieces by Cristofano Malvezzi, Antonio Archilei, Luca Marenzio, Giulio Caccini, Giovanni de' Bardi, Jacopo Peri, Emilio de' Cavalieri.
Les Traversées Baroques
Etienne Meyer, direction
Capucine Keller, Anne Magouët, sopranos
Maximiliano Baños, alto
Vincent Bouchot, François-Nicolas Geslot, tenors
Renaud Delaigue, bass
Jasmine Eudeline, baroque violin
Judith Pacquier, cornetto and recorder
Liselotte Emery, cornetto, tenor cornetto and recorder
Monika Fischaleck, bassoon and recorder
Ronald Martin Alonso, Christine Plubeau, viola de gamba
Matthias Spaeter, Magnus Andersson, theorbo
Laurent Stewart, harpsichord and organ
Les Traversées Baroques is supported by the Ministry of Culture (DRAC Bourgogne Franche-Comté) as an approved musical and vocal ensemble, also by the Conseil Régional de Bourgogne Franche-Comté, the Conseil Départemental de la Côte d'Or and the City of Dijon (under agreement).