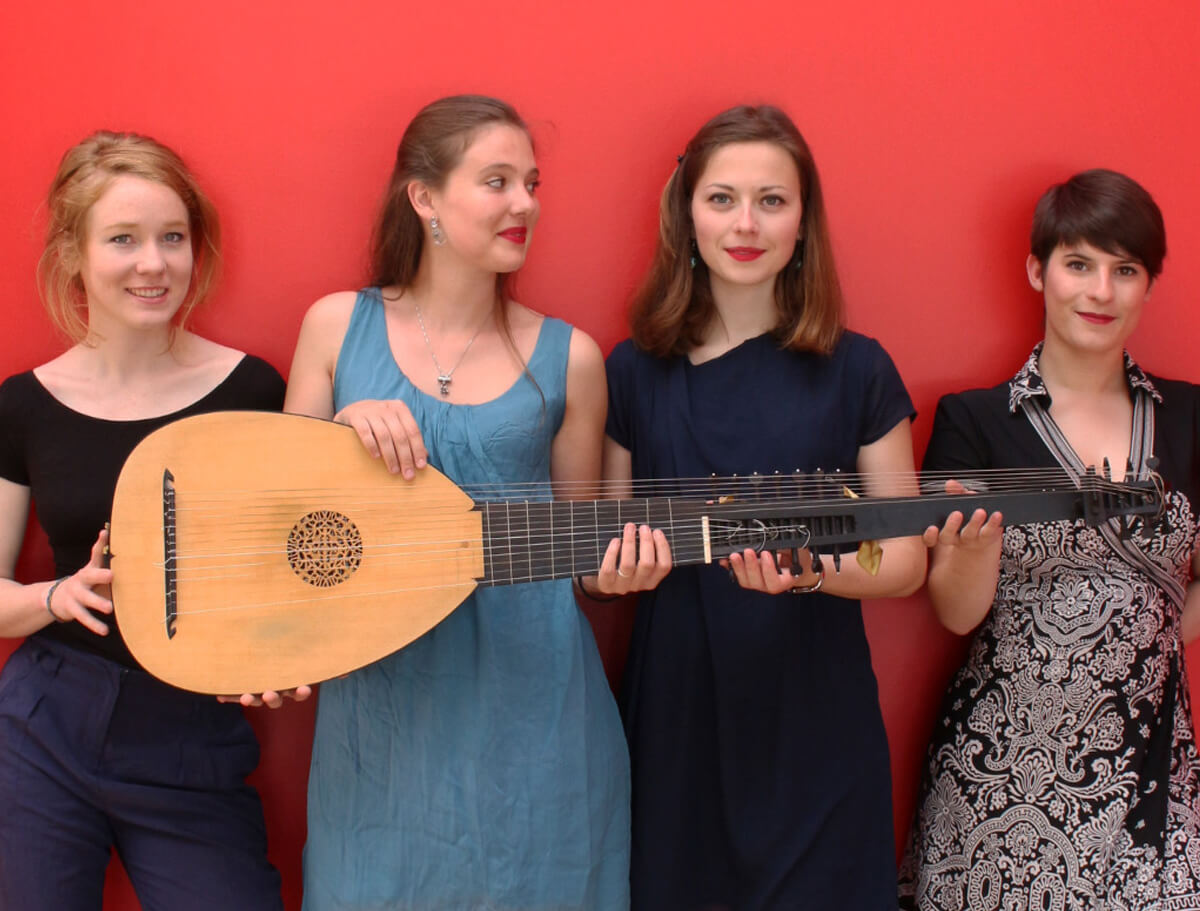 Programme

Giovanni Girolamo Kapsberger (1580-1651)
Deh Filli Vientene
Girolamo Frescobaldi (1583-1643)
Canzona seconda a basso solo
Barbara Strozzi (1619 – 1677)
Tra le speranze e'l timore
Begli Occhi
Barbara Strozzi (1619 – 1677)
Tra le speranze e'l timore
Francesco Corbetta (1615 – 1681) and Gaspar Sanz (1640 – 1710)
Folias
Santiago de Murcia (1673 – 1739)
Tarentelas
Gaspar Sanz (1640 – 1710)
Canarios
Giulio Caccini (1551 – 1618)
Torna, deh, torna
Giovanni Girolamo Kapsberger (1580-1651)
Fulminate
Vedete la mia luce
—- intermission—-
Pietro Antonio Giramo (1619 –circa 1630)
La pazza venuta da Napoli
Les Kapsber'girls
Alice Duport-Percier, soprano
Axelle Verner, mezzo-soprano
Barbara Hünninger, viola da gamba and bass violin
Albane Imbs, baroque guitar, archlute and direction
La Pazzia Venuta da Napoli
Saturday July 28th – 16:00 – Salle Gabriel Julliard
Les Kapsber'girls
Created in 2015, the outcome of a passionate exploration of essentially Italian pre-Baroque repertoires, this young ensemble gathers four musicians, all trained at the Lyon CNSMD, Alice Duport-Percier, Axelle Verner, Barbara Hünninger and Albane Imbs.
Les Kapsber'girls is searching for a new key to interpret historical sources. Drawing inspiration from Italian traditional songs, the four musicians approach early 17th-centuty works from a crosscutting perspective, building previously unthought-of bridges and playing around with the genre.
The ensemble is driven by a creative compulsion to make old new again, inventing sound colours not unlike the tones of contemporary improvisation, and displaying energy and zest of the kind proffered by popular genres.
Following a first, noticeable performance, at the Journées du Luth (Paris, April 2016), Les Kapsber'girls is twice welcome as ensemble in residence at the Académie Bach (Arques la Bataille, 76) for the creation of its "La Finta Pazza" programme,  scheduled to be given, among other venues, at the Festival Académie Bach, next Summer.
After a number of concerts distinguished by unanimous critics' awards (Saison Jeunes Talents, Paris ; Festival Européen Jeune Talents ; Festival Labeaume en Musique, Ardèche…), "La Finta Pazza" is Winner of "Best Baroque   secular chamber music concert"  and Les Kapsber'girls is awarded the Putti d'Incarnat (2016/17 season) by Operacritique alongside Poème Harmonique and Il Festino.
In January 2018, the girls made a recording at the Cité de la Voix (Vézelay) under the direction of Rolf Lislevand, the great lutenist.
With the new programme they are currently working on, they steer away from secular Italy for a while to tackle the French Air de Cour.
For this programme, Les Kapsber'girls has received the support of the Académie Bach.