The Jerusalem way
Friday July 30th, 17:00 – Salle Gabriel Julliard

Ensemble Alkymia
Sublimating and mingling what is most precious in both Early music and contemporary creation, such is the quintessential quest of Ensemble Alkymia. Founded in 2014, the ensemble gathers music graduates from the Lyon CNSMD, all with a passion for experimentation. The ensemble has received the support of DRAC AURA, Spedidam, Adami, Musique Nouvelle en Liberté, L'Institut Français and the Ateliers Médicis.

Camille Joutard
Camille starts training as an oboist, then, as of 2015, devotes herself to the exclusive study of "Early music singing". She sings with such ensembles as Les Métaboles, Zéné, Spirito…and also as a soloist in La théorie des prodiges created by the Système Castafiore dance company.

Aránzazu Nieto
Aránzazu starts studying flute at San Lorenzo de El Escorial in Madrid. She obtains two Masters in Lyon, one for flute, the other for chamber music with Le Consort Brouillamini, which she helped founding. Aránzazu teaches at the Privas CRC and at the Annecy CRR.

Nolwenn Le Guern
First a cellist, Nolwenn studies viola da gamba with Marianne Muller. She won a scholarship from Mécénat Musical Société Générale for her research work on the music of 17th-century court masques. She regularly performs with such ensembles as Doulce Mémoire, Céladon, La Tempête…

Nicolas Muzy
A guitar teacher and a specialist of traditional music of the Andes and Argentina, Nicolas also performs as a lutenist within several ensembles: Les Nouveaux Caractères, le Tendre Amour, Les Arts Florissants. Nicolas teaches the lute at the Chambéry CRR.

Julien Pellegrini
A teacher at the Rennes CRR, Julien performs with various national orchestras: Lyon, Monaco, Nice, Saint-Étienne…
He improvises and creates electronic music. As an actor-musician he features in "Noces", the film on Stravinsky.

Mariana Delgadillo-Espinoza
First Prize at the European Young Choral Conductor Competition in 2015, Mariana has worked with such composers as Edith Canat de Chizy or Philippe Hersant. Mariana has directed Alkymia since its inception as well as the children choirs of the Willems International Academy. She is Nicole Corti's assistant conductor within Spirito. In 2017, Mariana is selected by the TENSO Network, with the support of Société Générale and Adami. Mariana is an adept of historical dance, and also a harpsichordist.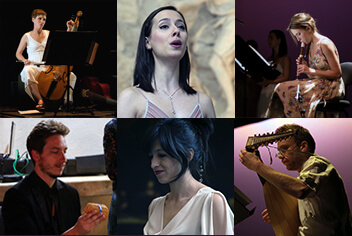 Programme
Philippe Hersant (1948 – )
Le chemin de Jérusalem

Richard de Fournival (1201 – 1260)
Onques n'amai tant

Guiot de Dijon (13th century)
Chanterai por mon courage
Improvisation

Anonymous
Cominciamiento de gioia

Anonymous (14th century)
Imperairitz (extract of Llibre Vermell de Montserrat)
Improvisation

Alejandro Viñao (1951 – )
Hildegard's dream
Electronic improvisation

Anonymous (13th century)
Ben guarda Santa Maria (extract of Cantiga de Santa Maria N°275)

Maurice Ohana, arr. (1913 – 1992)
Cantiga del Azahar
Improvisation

Anonymous (13th century)
O que en Santa Maria (extract of Cantiga de Santa Maria N°84)
Alegria and improvisation (extract of Cantiga de Santa Maria N°3)
Improvisation

Anonymous (13th century)
Santa Maria strela do dia (extract of Cantiga de Santa Maria N°100)


Ensemble Alkymia
Camille Joutard, soprano
Nolwenn Le Guern, vielles, viola da gamba
Nicolas Muzy, medieval luth
Aranzazu Nieto, flutes
Julien Pellegrini, percussion, computer music
Mariana Delgadillo Espinoza, artistic direction