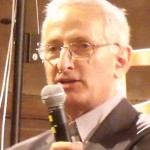 Dominique Longchamp
In 2009, Dominique Longchamp brought together the founding team of the Festival Valloire baroque, a project whose main lines he had devised.
The team, about twenty persons, either native of Valloire or "adopted", rapidly evolved into an organizing team, managed, year after year, since the first season of the festival in 2010, by the initiator of the project.
Today, strengthened by the cohesion and harmony of their team, the organizers are increasingly skilled in the tricks of their "trade". They are proud to receive messages of encouragement, such as that of a Savoyard politician :"I congratulate you for the quality of the work  you have achieved to promote this wonderful event that does honour to the cultural programme of the Maurienne valley."
2016 The Festival Valloire baroque
A word from Dominique Longchamp
President of Amis du Festival Valloire baroque

I must confess, I am doubly pleased to write these lines as we enter the 7th season of the Festival Valloire baroque.
Firstly, 2015 has been a year of considerable expansion for the festival, due to a sharp rise in attendance, and also increased media coverage, with a TV broadcast of one of the concerts and an article in Le Monde. A wonderful reward for the organizing team, more than thrilled by such excellent results.
This is indeed heartening news, since our driving force is our ambition to please and retain festivalgoers, year after year. Those who support the festival may justly feel proud and I sincerely thank them in the name of all our festivalgoers. No doubt our private sponsors, who unfailingly demonstrate their commitment to the festival, will also welcome the glad tidings.

Secondly, the 2016 edition is a promise of great music, with a programme built around the theme "Bach, All in One !" For my part, I love Bach more than any other composer. Of course, one has to "work hard" to listen fully, to sing and naturally to play Bach, but his music brings unparalleled peace of mind.
This year, Valloire will welcome over 80 artists. For the Saint Matthew Passion, we have invited Les Inventions, an ensemble gathering 29 musicians. The work requires a double choir, a double orchestra and two continuo players, i.e. two organs! Undaunted, the festival has mustered what strength was necessary to move such "mountains", and I marvel at the energy deployed by our team of volunteers, reinforced by new recruits in 2015, and now counting some 65 persons. These are the people I wish to thank and congratulate on my behalf, and on behalf of all the Valloire festivalgoers.

"Mixing effort and elation, as required and attained in mountain hikes and the performance or audition of classical music, the Festival Valloire baroque brings festivalgoers double rewards". Such is the festival's leitmotif, most aptly suited to the coming Bach programme.