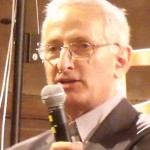 Dominique Longchamp
In 2009, Dominique Longchamp brought together the founding team of the Festival Valloire baroque, a project whose main lines he had devised.
The team, about twenty persons, either native of Valloire or "adopted", rapidly evolved into an organizing team, managed, year after year, since the first season of the festival in 2010, by the initiator of the project.
Today, strengthened by the cohesion and harmony of their team, the organizers are increasingly skilled in the tricks of their "trade". They are proud to receive messages of encouragement, such as that of a Savoyard politician :"I congratulate you for the quality of the work  you have achieved to promote this wonderful event that does honour to the cultural programme of the Maurienne valley."
2015 The Festival Valloire baroque
A word from Dominique Longchamp
President of Amis du Festival Valloire baroque
Festivals come and go, never the same.
From the first season in 2010 to the 5th edition in 2014, the Festival has evolved and constantly innovated:
– the number of concerts has grown from 7 to 10, even 16, la Traverse included
– the ratio of events has risen from 9 over 8 days to 19 over 10 days
– in 2011, the decision is made to hold a mid-festival grand concert on the Saturday
– then follows, in 2012, the first concert at Saint-Michel-de-Maurienne
– la Traverse (the Off) is created in 2014, a showcase for young ensembles from the Rhône-Alpes region
– in 2014, la Scierie de Benoît, a former sawmill, is boldly converted into a concert hall!
The Festival has come a long way, and fast!

Sadly enough, budget conditions have recently tightened. We are no less determined to preserve our ambition of musical excellence, the foremost appeal of the festival, together with its friendly atmosphere and its highly professional team of volunteers!
For us and our sponsors, whether they are institutional bodies or private sector donors, any cultural initiative has to contribute to sustainable development, economic development included, needless to say. Therefore, we have to think first as « good managers » and take action to increase attendance.

Yet, as ever demanding and selective, the Festival will not scale down its offer, but keep the line of the late radio and TV anchorman Jacques Chancel, whose motto was: "Do not give them what they like, but what they might like".
Accordingly, the 2015 Festival will offer an exciting Neapolitan programme, combining the works of "star" composers and those of lesser known musicians, performed by the best artists and presented by prestigious experts in the libre cours lectures.
This year's vintage is set to be highly palatable!