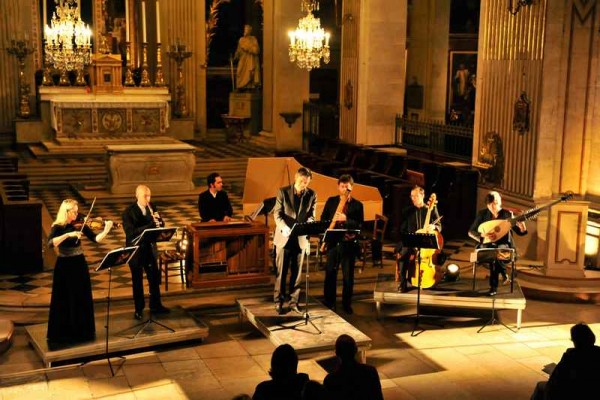 Programme
In festo Sancti Jacobi apostoli
Gregorian chant
Procedens Jesus, vidit Jacobum
Urbani Loth (dates unknown)
O beate Dei athleta Jacobe

On the way…
Anonymous
Bienheureuse est une âme
Eustache Du Caurroy (ca. 1549 – 1609)
Fantaisie à 3 voix sur Une jeune fillette

Along the Rhône valley…
Guillaume de Chastillon (ca. 1550 – 1610)
Justes, chacun se présente
Chantez au Seigneur
Ce qui me plait davantage loin du trouble des cités
M. de Bacilly (ca.1621 – 1690)
Ah qu'il est dous Seigneur

At the crossroads…
Girolamo Kapsberger (ca .1580 – 1651)
Colascione
Matteo Coferati (1638 – 1703)
Di Jacopo si canti (Lauda di Jacopo, apostolo Maggiore)
Anonymous
Cancion real francesa in echo

Through Languedoc…
Étienne Moulinié (1599 – 1676)
N'espérez plus, mes yeux – air en port de voix et diminutions
Anonymous
De cor, de boux celebrats, cantats toutis !
Ayres noutats en plen-chant figurat
Aban la messo et a bespro
A Toulouso, cariero Sant Roumo

**Entr'acte**

En Aragón y Castilla…
Andrea Falconiero
Batalla de Barabasso, yerno de Satanas
Anonyme
Gaïta spañola (cornemuse espagnole)
Bertolomeu de Olague maestro de capilla de Burgos (17th century)
Jacara (baïla de Jaca)
Andrea Falconiero
Folias para mi Señora Dona Tarolilla de Carallenos

En la iglesia de Leon…
Etienne Moulinié (1599 – 1676)
Repicavan las campanilas (Spanish air)
Jan Jacob van Eyck (ca. 1590 – 1657)
Repicavan, « gefigureert door »
Anonymous
Espagnol, je t'en supplie, air en dialogue
Gaïta francesa (French bagpipe)

En Galicia…
Gabriel Bataille (ca. 1575 – 1630)
El baxel esta en la playa
Anonymous
Vuelve barquilla
Andrea Falconiero (ca. 1585 – 1656)
Cancion « La benedetta »

En el portal de Santiago !
Francisco Soler (ca. 1729 – 1783)
Vilancico de nacions, de Gascuña, Aragon y Cataluña

La Fenice
Arianna Savall, soprano and Renaissance harp
Jean Tubéry, cornettos, recorders and direction
Josué Meléndez Pelaez, cornetto and guitar
Anaïs Ramage, bassoon and recorders
François Joubert-Caillet, viola da gamba and lira da gamba
Wim Maeseele, theorbo and baroque guitar
Philippe Grisvard, harpsichord and organ
Un Camino de Santiago – On the Way of St. James
Wednesday August 6th – 21:00 – Valloire church
For the pilgrims on their way to St. James, music was both a source of entertainment and a means to exalt their faith. Pilgrimages were thus often an opportunity for rich musical exchanges between those travellers from every corner of Europe and the inhabitants of the regions they passed through. The oldest pieces of music have almost all been lost. However, from the 16th century onwards, texts, sometimes with the corresponding scores, were recorded in song-books, fortunately preserved until our times. Many of these texts glorify James the Apostle, the miracles he performed and his powerful intercession with Christ. Others reflect aspects of the pilgrims' everyday life. These books also contain very learned musical compositions, such as those written by the masters of the cathedral in St. James. Interestingly enough, some of these songs include a good many variants, offering proof of their large circulation among pilgrims even from remote horizons.
Let us now travel the Way of St. James, through 17th-century music !
La Fenice
The phoenix– in Italian la fenice – such is the name chosen for this group of musicians eager to convey their passion for 17th-century music. As the legendary bird rising from the ashes, this music is recovering its extraordinary vitality. From its very start, the ensemble garnered two international first prizes, an achievement heralding the brilliant career in store for them. The recordings by La Fenice are regularly rewarded with the highest distinctions.
La Fenice is in residence at Auxerre. The ensemble is supported by the Ministère de la Culture et de la Communication (DRAC Bourgogne), the city of Auxerre, the Conseil Régional de Bourgogne, the Conseil Général de l'Yonne, and his two sponsors : Lincet and Société Générale.
Jean Tubéry
A recorder player by training, Jean Tubéry first plays the cornetto within various ensembles of high renown, before devoting himself to choir direction. In 1990 he founds the ensemble "La Fenice", whose abundant discography provides evidence of his predilection for 17th-century music, and more particularly for Italian works of that period. At the head of his ensemble for over twenty years now, Jean Tubéry has established himself as a prominent figure in the French and also European musical landscape.
Arianna Savall Figueras
The daughter of Jordi Savall and Montserrat Figueras, she starts studying harp and voice at a very early age. She makes her debut as a singer in Barcelona in 2002, in the unforgettable production of Monterverdi's Orfeo conducted by her father. She then contributes to innumerable concerts and recordings, either as a soloist or with her parents, emerging as an internationally acclaimed artist, the "Fairy with a harp" according to enthusiastic music critics.