Programme
Johann Sebastian Bach
(1685 – 1750)
Chaconne from Partita n°2
Niccolò Paganini
(1782 – 1840)
Caprice n°16
Ludwig van Beethoven (1770 – 1827)
Sonate l'Appassionata, 2nd and 3rd movements
Frédéric Chopin (1810 – 1849)
Ballade n°2
Ludwig van Beethoven (1770 – 1827)
Violin Romance n°2
Niccolò Paganini (1782 – 1840)
Mosè Fantasia
Pablo de Sarasate (1844 – 1908)
Gypsy Airs
Dorian Rambaud, violin
Maxime Sauze, piano
Recital by Dorian Rambaud and Maxime Sauze
Friday July 31st 2015 – 21:00 – Salle Gabriel Julliard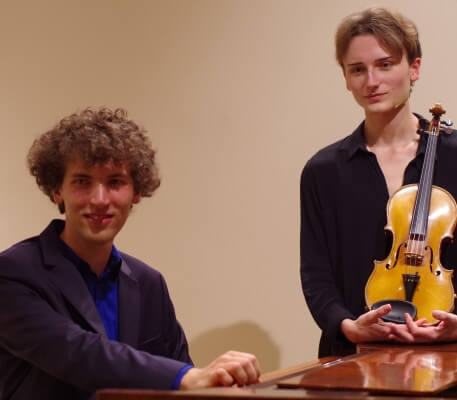 Dorian Rambaud (violon)
Dorian, now aged 16, starts studying the violin at 8, at the Vence conservatory. In 2008, he enters the Nice CRR, then the Paris CRR in 2013. He joins the Vence orchestra for many concerts, appearing as soloist or concertmaster. In 2009, he plays second violin in a performance with Gilles Apap of Vivaldi's concerto for four violins and orchestra. In 2013, Dorian appears at the Nuits Musicales du Suquet in a concert by Jeunes Talents de la Côte d'Azur. In 2014, he participates in La Traverse, at Valloire. In February 2015, he is concertmaster in JS Bach's double concerto for violin and strings at a concert of young talents given at the Vence cathedral. Dorian is currently studying for his DEM in Suzanne Gessner's class.
Maxime Sauze (piano)
A brilliant high school graduate with a Baccalauréat in Literary studies (first class, in June 2013) Maxime, now aged 18, is currently studying for his DEM, attending Claude Cappatti's piano class at the Nice CRR, which he entered in 2008. Maxime has made highly acclaimed appearances either as a soloist with the PACA orchestra at various competitions and events, or as a chamber musician at Menton's festival of classical music, or again at La Traverse, at Valloire, in 2014. Maxime has also performed in a small ensemble with Richard Galliano, Best Composer winner at the 2014 Victoires de la Musique Classique.
In parallel, Maxime is studying musicology and the organ, again at the Nice CRR.