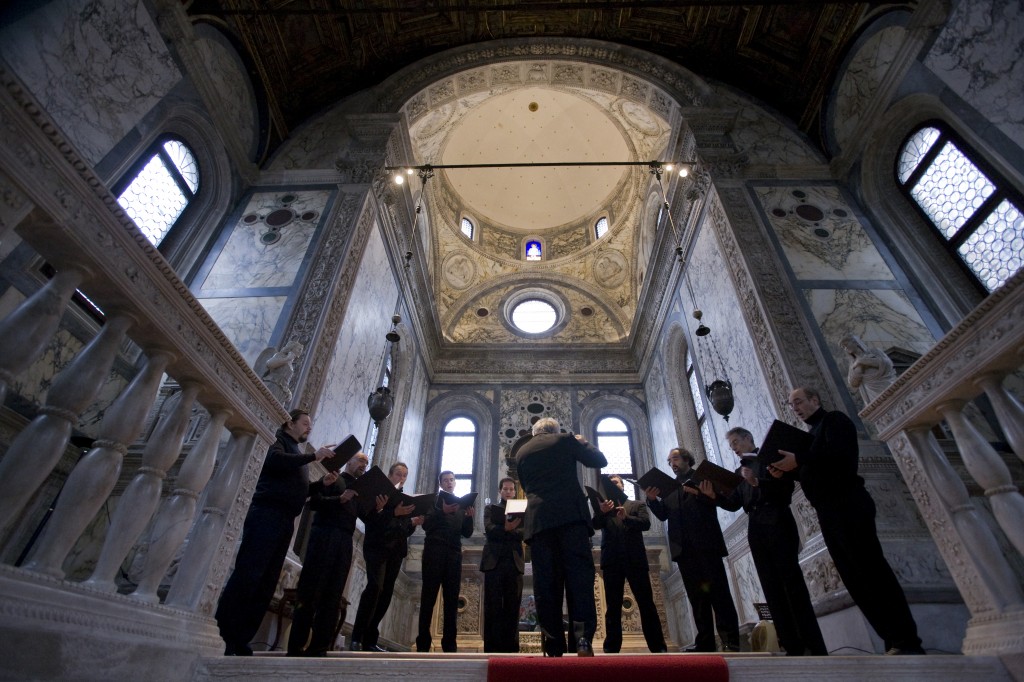 Programme
La música del cielo – Las Palmas cathedral
Polychoral Works of the Maestros de Capilla of Las Palmas Cathedral in the Canary Islands*
Oficio de las horas. Vísperas, Commune Martyrum
Manuel de Tavares (1585 – 1638)
Salmo 109. Dixit Dominus, a 7
Juan de Figueredo (ca. 1630 – 1674)
Motete a San José: Joseph fili David, a 8
Magnificat de VII tono, a 8
Salve Regina, a 5
Manuel de Tavares (1585 – 1638)
Cum complerentur, a 8
Oficio de las horas. Completas de tiempo pascual
Francisco Redondo (ca. 1616 – post 1650)
Nunc dimittis, a 6
Miguel de Yoldi (ca. 1634 – 1674)
Salmo 90. Qui habitat, a 7
Oficio de la misa
Manuel de Tavares (1585 – 1638)
Missa IV toni, a 8
Kyrie
Gloria
Credo
Miguel de Yoldi (ca. 1634 – 1674)
Regina coeli, laetare, a 8
Manuel de Tavares (1585 – 1638)
Sanctus
Communio. Villancico A gozar del convite, a 8 y a 3
Agnus Dei
Odhecaton
Laura Antonaz, soprano
Alessandro Carmignani, countertenor
Gianluigi Ghiringhelli, countertenor
Renzo Bez, countertenor
David Allsopp, countertenor
Fabio Furnari, tenor
Vincenzo Di Donato, tenor
Marco Scavazza, baritone
Giovanni Dagnino, bass
Marcello Vargetto, bass
Andrea Inghisciano, cornetto
Paolo Tognon, bassoon
Liuwe Tamminga, organ
Paolo Da Col, direction
La música del cielo
17th-Century Polychoral Works of the Maestros de Capilla of Las Palmas Cathedral in the Canary Islands
Saturday August 2nd– 21:00 Valloire church
The Roman Catholic Cathedral of Santa Ana in Las Palmas is the largest church in the Canary Islands. Devastated by the Dutch fleet in 1599, the cathedral soon recovered its past splendour, forming a new musical chapel and inviting illustrious Iberian composers and musicians. Among them, Manuel Tavares, whose work was for the most part lost in the 1755 Lisbon earthquake, Francisco Redondo, who donated his scores to the cathedral then sailed to Latin America, Miguel Yoldi and Juan de Figueredo, who both eventually settled in the Canaries. Our ambition is to revive the heritage they left, an almost forgotten repertoire of sacred music worthy of the greatest cathedrals in Spain, with a core of polychoral psalms, together with a more secular legacy of rhythmic villancicos in Spanish. Throwing a bridge between two worlds, their music also reflects the artistic osmosis that occurred between the refined aesthetics of a dominant culture and the exotic contribution of newly found lands.
Odhecaton
Created in 1998, the Odhecaton ensemble has initiated a new approach of early polyphonic music, founding interpretation on textual declamation. The ensemble is named after Harmonice Musices Odhecaton, the first music book ever printed, published in Venice by Ottaviano Petrucci in 1501.
Odhecaton's favourite repertoire mainly consists of works by Italian and Flemish composers who were active in Italy between the 15th and 16th centuries.
The ensemble has performed at various prestigious European festivals and has so far released eight recordings, essentially devoted to the sacred music of Palestrina, Gesualdo da Venosa and Monteverdi, but also to contemporary works (Sciarrino, Scelsi, Pärt, Rihm). In 2010 Odhecaton received two Diapason d'Or thanks to its recordings of "O gente brunette" and Missa Papae Marcelli by Palestrina. Odhecaton is also currently recording the rich repertoire of 17th-century sacred music from the Canary Islands.
Paolo Da Col
Singer, organist, artistic director and musicologist, Paolo Da Col completed his musical studies in Bologna, interested from the start in Renaissance and Baroque music repertoires. For over twenty years he has been a member of several Italian vocal ensembles. Conductor of his Odhecaton ensemble since 1998, he also directs other vocal and instrumental groups specialized in the Baroque repertoire. He teaches at the Trieste Conservatory and also collaborates with a number of specialized musical magazines. He is currently working on a comprehensive edition of Rossini's works, all the while carrying out a research project on Italian Renaissance chapels at the Centre d'Etudes Supérieures de la Renaissance in Tours.